A gorgeous Rock Springs Ranch Wedding!
I met Halley over coffee at Thump in downtown Bend and immediately knew I liked her! She's so sweet, loves her dog and loves the outdoors. She and Ryley were planning to wed in August at the beautiful Rock Springs Ranch wedding venue and I couldn't have been more excited. It's one of my favorite venues in Central Oregon, with a laid back vibe and plenty of rustic charm!
I arrived to the venue and headed to the cabins where Halley & Ryley were getting ready. Halley, her mom, future mother-in-law and all her girls were in the midst of hair and makeup when I went to work photographing all the fun details. Halley's gorgeous gown looked amazing next to the bright magenta gowns her bridesmaids were wearing. Halley wanted to be sure incorporate some family keepsakes into her wedding day. The first being her grandmother's mirror, and asked me to photograph their rings on it. She also wore a bracelet that was handed down to her from Ryley's family. Being a sentimental wedding photographer, I just love that used such treasured family heirlooms!
It was time for everyone to get dressed and ready for the day! Her gorgeous bridesmaids got into their magenta dresses and then watched as Halley's mom helped her into her stunning gown. This moment is one of my favorites of the day!
As the ladies were getting ready in their cabin, Ryley and the guys were preparing for the day in his cabin.
It was time for the first look among the pine trees surrounding Rock Springs Ranch!
Before the ceremony, we had time for the wedding party portraits and some family formals.
After the first look, it was time for the wedding party to gather for their portraits. The youngest member of the wedding party had a special job as the Ranger's handler, and he received a special gift from the bride and groom for doing so. He was all smiles!
An outdoor ceremony adorned with winery themed elements on the front lawn of the Rock Springs Ranch wedding venue.
Halley grew up in Northern California, where her family owns a beautiful vineyard. She chose to incorporate some elements of home in her gorgeous Central Oregon wedding, decorating with wine barrels, grape vines, and bottles. The theme certainly had a rustic chic vibe!
The sun was shining, it was a warm summer day, and it was time for the outdoor ceremony to begin at this gorgeous Rock Springs Ranch wedding in Tumalo, near Bend, Oregon.
After their gorgeous outdoor ceremony, it was time to finish family photos and enjoy the cocktail hour!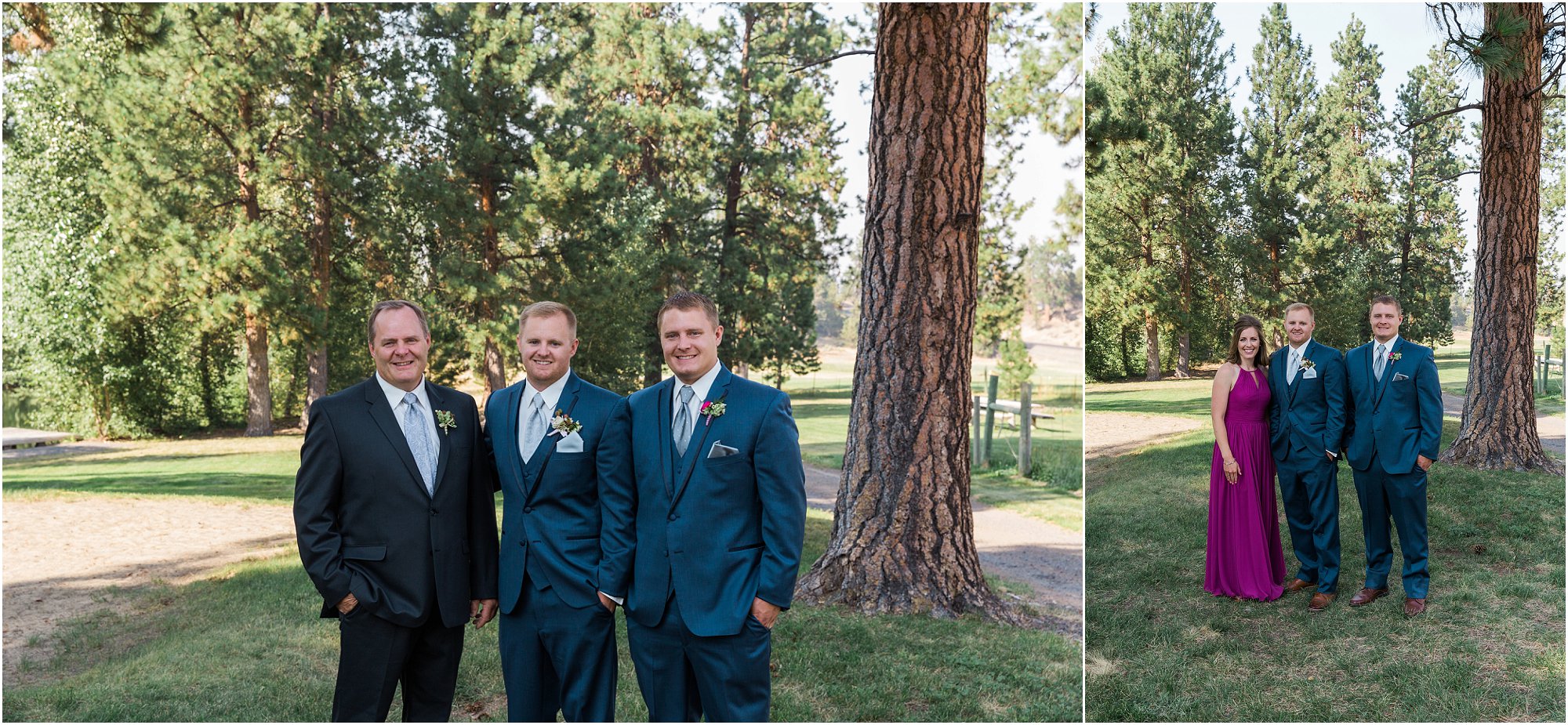 Next, it was time to enjoy the lovely cocktail hour before it was time for dinner, toasts & the cake cutting!
The wedding theme certainly had a bit of that California vineyard vibe, with an amazing spread of cheese, crackers, fruit and wine from the family's winery. Guests mingled outside with Halley and Ryley, enjoying the warm summer evening. Halley's aunt even had a special wine bottle label made specifically for their day, using one of their engagement photos we did in spring. A few sneaky family members decorated their adorable getaway car, a vintage orange cute little thing (yeah, I'm not a car person so I have no clue what it was, ha)!
I always try to get some detail shots of all the decor, tablescapes, and food before the guests fill the room. I absolutely love the interior of the Rock Springs Ranch wedding venue, with it's rustic character and huge picturesque windows. So much gorgeous light fills this space!
It was time for the sweet couple to make their grand entrance so guests could enjoy the delicious dinner served up by Bleu Bite Catering, before moving into toasts and the cake cutting!
Before the couple's first dance and open dancing, we snuck off for a few more portraits & some getaway vehicle shots during the golden evening light!
Finally, it was time to head back in to join the party and for the happy couple to share their first dance.
After the first dances, the bouquet and garter toss were up. It's always so nice to have these on the outdoor patio of the rustic Rock Springs Ranch wedding venue!
And at last, it was time for all the guests to head out on the dance floor to party the night away!
Halley & Ryley, your Rock Springs Ranch wedding was absolutely beautiful and I'm so thankful I had a chance to photograph your special day. I wish you both a lifetime of happiness! I also want to thank all the other amazing vendors who helped put this wedding together. What a great group of people we have here in Central Oregon!
______________
Venue: Rock Springs Ranch
Wedding Gown Designer: Beloved by Casablanca
Bridal Gown Shop: Wine Country Bride
Bridesmaids Dresses: Azazie
Suits: Jim's Formal Wear
Hair: Kaila Lundstrom, Tangerine Hair & Essentials
Makeup: Kaelin McDowell Beauty
Flowers: Heirloom Floral
Groom's Ring: Saxons Fine Jewelers
Shoes: Daya by Zendaya
Wedding Coordination: Bend Weddings & Events
DJ: Studio Jay
Food/Beverage: Bleu Bite Catering
Cake/Cupcakes: Ida's Cupcake Cafe
Decor: Central Event Rentals
Invitations: Basic Invite
2nd Photographer: Michelle Bauer Photography
Primary Photographer: Erica Swantek Photography
________
Hey there, I'm Erica, a Bend wedding photographer for sentimental, free-spirited and natural couples that love celebrating outdoors. Oregon is my home, but I'm always willing to travel. I'm currently booking 2018 weddings and would love to talk with you if you are getting married. Drop me a message and let's chat!