A PNW hiking adventure elopement in Oregon!
I met Kelsey & Luke at the amazing Wild Enchantment Photography Workshop last October, which was an intentionally small retreat focused on creating content for a PNW hiking adventure elopement hosted by the amazing Jenn and Dillen of Wild Coast Photo. Before we began our hike to the waterfall, Kelsey & Luke put the finishing touches on their look in the parking lot by their car. The love & excitement between these two was absolutely apparent the second I began photographing them. I learned that they were celebrating their 1 year wedding anniversary with this shoot, and that just made my heart melt. They got to relive their wedding vows, in a different setting, and so much joy in their hearts.
A hiking elopement isn't complete without packs decorated to celebrate the day!
One of the must have items for an PNW hiking adventure elopement is a backpack to carry the things you want to bring with you on your day. It's also a really great place to have some fun, and put a little spin on tradition. I just love the "Just Eloped" signs that adorned their packs! You'll want to be sure to pack your vow books, your flowers, any props you want to use for the ceremony, champagne glasses and a bottle of bubbly, and the rings of course! I also suggest a blanket (I have some you can borrow too), especially with an all outdoor day. Plus, snuggling under one makes for a great photo or two! Depending on the length of the hike, and the timeline, it's always a good idea to pack some essentials too, such as headlamps, warm layers, some snacks, extra water, you get the idea. Of course, I will always carry extra stuff too!
A gorgeous hike among the tall spruce forest filled with lush ferns makes for a perfect adventurous elopement day!
Now that I got that out of the way, let's get back to Kelsey & Luke's day. We headed down the trail, on a chilly October morning with the plan to meander and take photos as we looked for the perfect ceremony spot. We initially wanted to use the waterfall as the backdrop, but the rain started up and we decided the cover of the forest was a better spot to say their vows. The hike was about 3 miles round trip, but we made sure to leave plenty of room in the timeline to allow for a relaxed elopement day. The trail winding through the tall spruce trees and lush ferns was incredible and we made sure to stop a lot!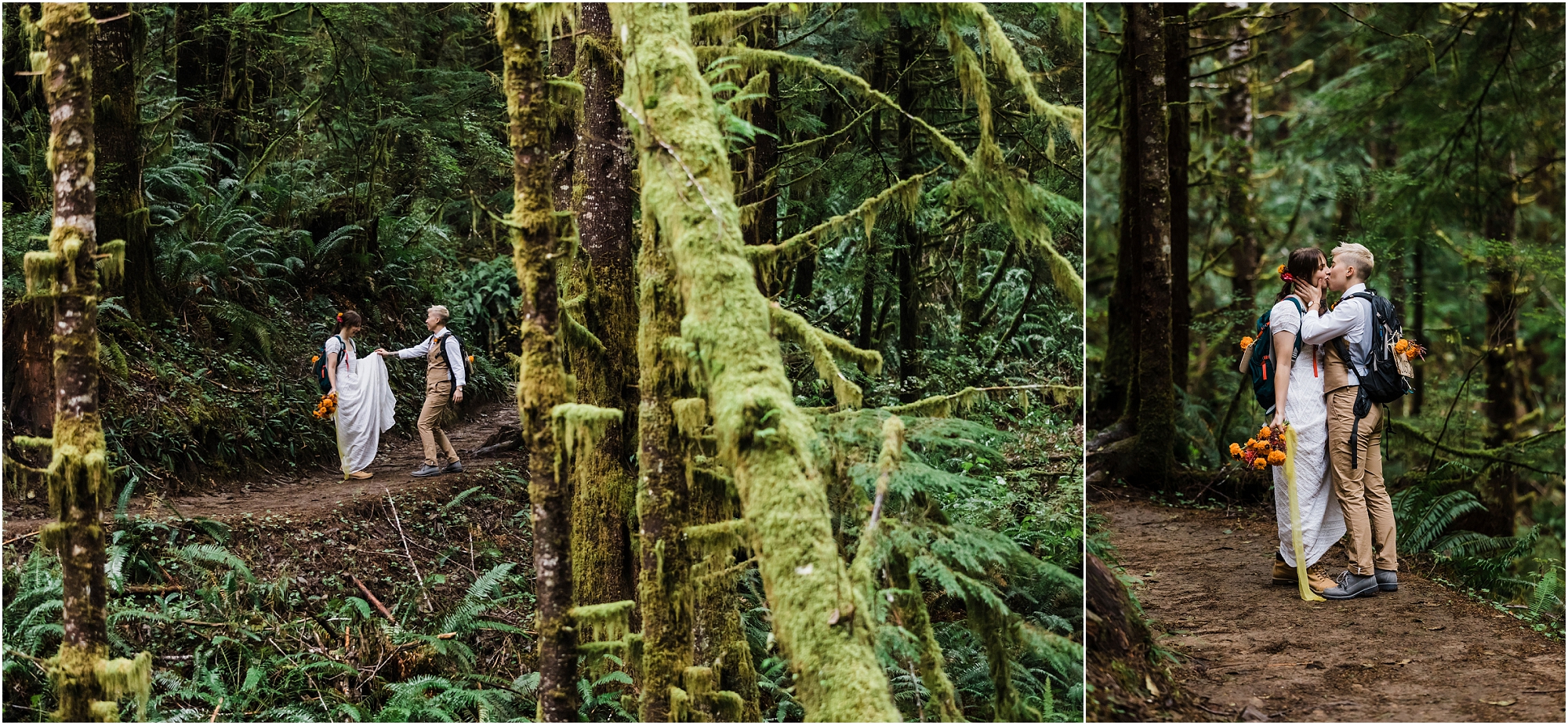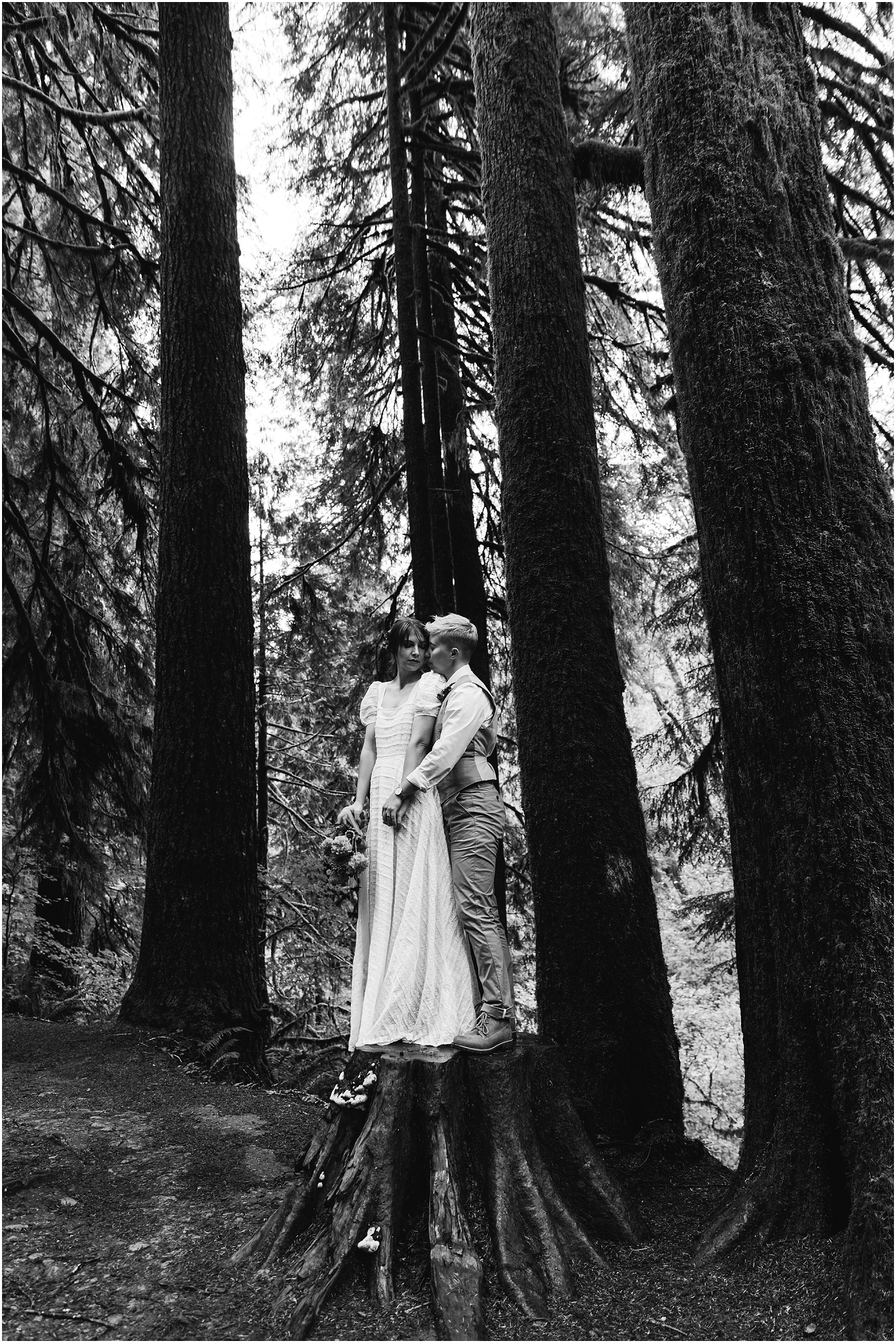 The gorgeous forested trail created a perfect ceremony space for this PNW hiking adventure elopement!
As the drizzle turned into a steady rain, we decided that the original ceremony destination at the waterfall was going to be too exposed, and chose instead to stay within the protection of the forest. The amazing Lexi with The Slow Cult created a gorgeous macramé hanging backdrop (she also did all the floral & design work because she's a freaking design genius) that was easily erected between two trees for a perfect boho touch. Kelsey & Luke shared their personal vows, that were handwritten on beautiful cards, as the rain fell along the quiet forest. After their ceremony they popped a bottle of sparkling water, which is a great alternative to real champagne, both in terms of reducing the sticky mess and honoring Leave No Trace principles.
A gorgeous suspension bridge and waterfall make the perfect destination for this PNW hiking adventure elopement!
After the ceremony, it was time to finish the hike to the waterfall. To say the scenery was absolutely gorgeous is an understatement. The suspension bridge over the creek and the waterfall cascading down the cliffside were nothing short of epic! By this time it was absolutely pouring rain, but Kelsey & Luke kept warm by wrapping themselves in a gorgeous blanket with a teal and orange color palette from Trek Light Gear. They snuggled on the bridge as the rain soaked them, and then we wandered towards an overlook of the falls, but it was way too wet and slippery to venture down to the base. The landscape couldn't have been more perfect for their PNW hiking adventure elopement!
The day was winding down and it was time to head back to the trailhead and get warm!
We had talked about doing a little picnic at the falls, but with the pouring rain it was definitely time to call it. Kelsey & Luke were soaked to the bone, and while their spirits were high, they were both getting cold and ready to be dry and warm. We can't always plan for the perfect weather, but the thing about eloping couples is that they are usually more of a go with the flow type of people, which is key when dealing with nature and the elements. Of course, I will always carry extra layers and handwarmers to make sure you're comfortable. But most of the time, the adrenaline rush keeps you going longer than you might normally tolerate. And that's exactly what happened with these two. They seemed to enjoy every moment together, sharing laughter and kisses through the day. Their love and affection for each other was truly contagious and it's so apparent when I look back through their images.
Kelsey & Luke are an incredibly loving and connected couple and it was truly an honor to meet them, and learn more about their relationship as I continue to follow them on social media. They are part of the LGBTQ+ community, and passionate about sharing their own story. I've watched Luke's journey coming out as transgender, and his vulnerability and openness to sharing his story has been truly heartwarming. I am honored I had the opportunity to meet this beautiful couple, photograph their unique and amazing love, and forever grateful that Luke shares his journey with all of his followers to bring light and understanding to the trans community. I encourage you to check out his Instagram account. It's raw, emotional and has brought me so much more awareness to this marginalized community.
Behind the Scenes of an incredible PNW hiking adventure elopement photography retreat!
Finally, it goes without saying, but I must give a huge shout out to the amazing people that made this epic adventure elopement photography retreat happen. As a wedding photographer, I have plenty of images in my portfolio of traditional weddings. However, I've been feeling a pull over the last few years towards more intimate weddings and elopements. I actually blogged about this last April and would love you to read it here. And with the way this last year was with the pandemic, the push was finally there to make the transition. I still will always photograph a few traditional weddings, but I really intent to focus more on creating a full experience for my couples and this retreat was exactly what I needed to showcase that. I am eternally grateful for how well planned this workshop was. I've done many styled shoots over the years, and this was by far the absolute best one I have ever attended. It was a fully immersed experience, where every single photographer had the time with the models to get the photos they desired, the vendor team was incredible and the location and models were specifically chosen for diversity and inclusivity, something that is extremely important to me and reflective of my own personal values. It truly was an incredible, epic experience and I can't say enough about how much this filled my cup! Thank you, Jenn, Dillen, Lexi, Kelsey & Luke. You are all incredible humans and I'm honored to have met you and hope to work with you all again in the future!
Shoutout to all the amazing people that made this day happen!
Photography Retreat: Wild Enchantment
Hosted by: Wild Coast Photo
Design & Florals: The Slow Cult
Blanket: Trek Light Gear
Vow Cards: Little Canoe
Kelsey's Attire: BHLDN
Models: Luke Pearson and Kelsey Pearson
_____
Hey, I'm Erica, an elopement and intimate wedding photographer for sentimental, free-spirited and natural couples based in the PNW. I would absolutely love to chat with you more if you are considering eloping and want someone to help you plan and photograph it. I truly believe these intentional weddings are a way to honor your commitment to one another. So fill out my contact form and let's talk! I still have 2021 dates open and I'm now booking 2022.