A wild Oregon Coast Guard elopement on a ship in Winchester Bay!
When Makhala first contacted me, she was planning an intimate wedding on March 22, 2020 at Black Butte Ranch in Central Oregon. Her fiancé, Hunter, was a member of the Oregon Coast Guard, stationed in Winchester Bay. Of course, no one could have predicted the craziness that would become of last year. As the pandemic became apparent and things began shutting down, Hunter got orders that he couldn't leave his base zone. They decided that no matter what, being married was the most important thing to them, and so they pivoted their intimate wedding plans and had the most epic Oregon Coast Guard elopement on a ship out in Winchester Bay. Makhala and I kept in constant communication those few weeks right before their wedding day, talking through options and I told her that no matter what, I was there for them. The importance of my job isn't lost of me. After all, at the end of the day, all you have left is the photos. Makhala and Hunter wanted their families to be with them, but it wasn't an option, so having good photos was even more important to them with this change of plans. On the morning of their elopement, I packed up all my gear and made the drive to Winchester Bay, on the Southern Oregon coast, excited for a truly unique experience.
The Umpqua River Lighthouse, managed by the US Coast Guard, served as our first look location.
The day started out with me meeting Hunter at the Umpqua River Lighthouse, where he and Makhala would have their first look. He showed me around the grounds of the lighthouse, which is managed by the Coast Guard. Mahkala arrived with a "Coastie" friend, who helped situate her veil and dress as Hunter waited to get a glimpse of his gorgeous bride. After their first look, we walked out to a grassy overlook, with incredible views of Winchester Bay, for some more portraits.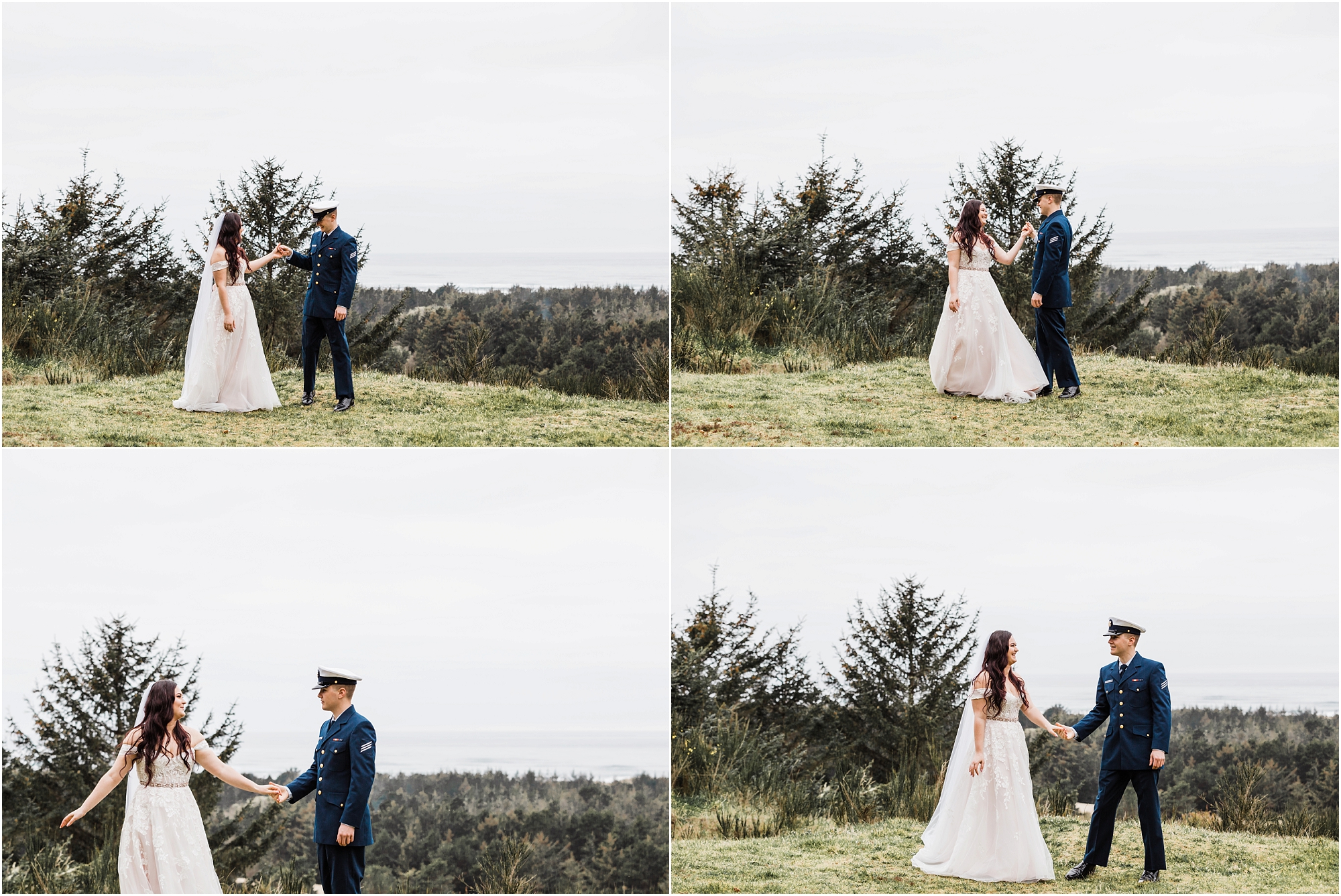 The Gorgeous sandy beaches in the Umpqua Lighthouse State Park are perfect for romantic portraits! 
After the first look, we headed down the road a bit to the sandy beaches for a few romantic portraits. With the help of the wind, and Makhala & Hunter's friend, we got the flowing veil shot. We also saw a bald eagle flying over the ocean, which we decided was a good omen!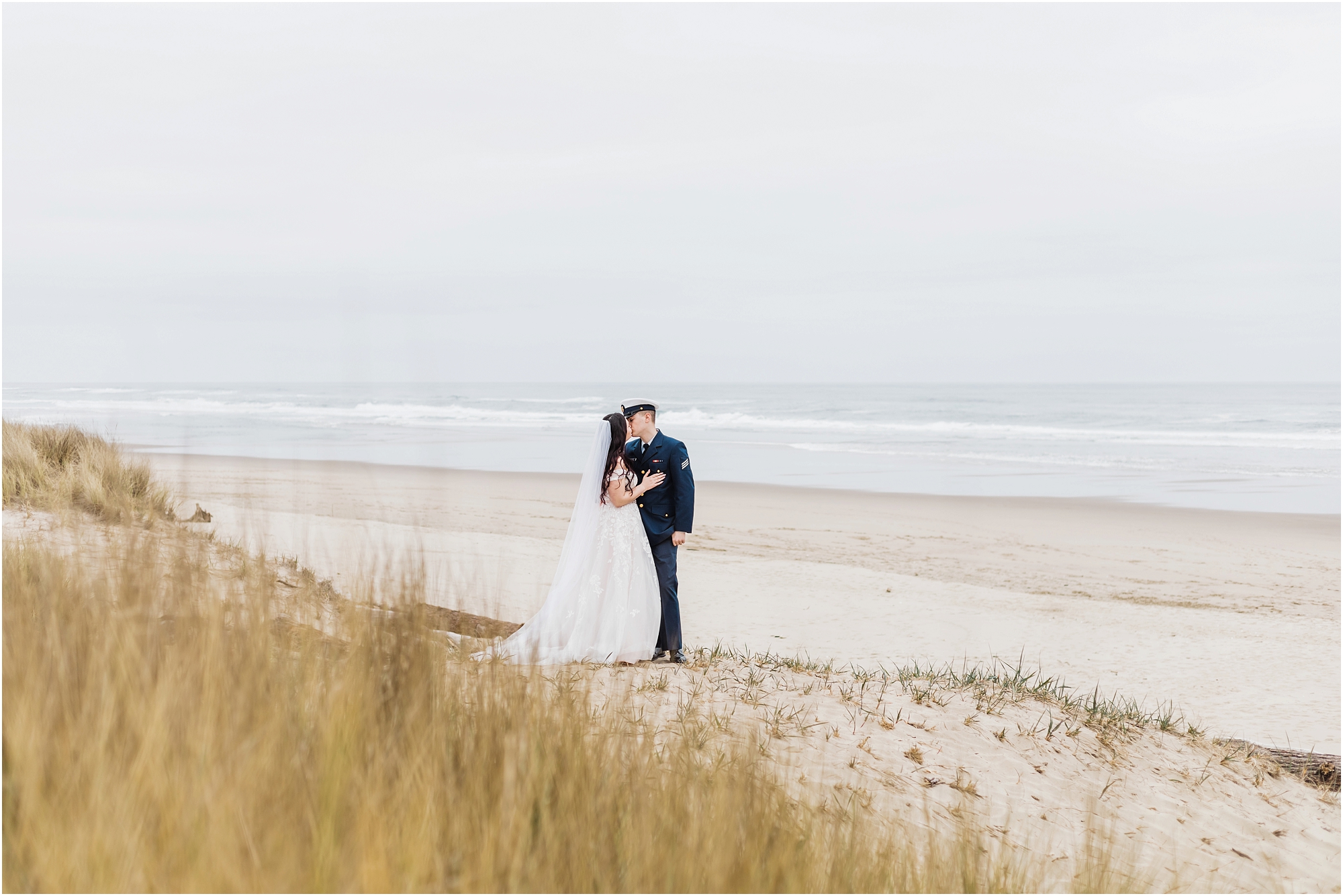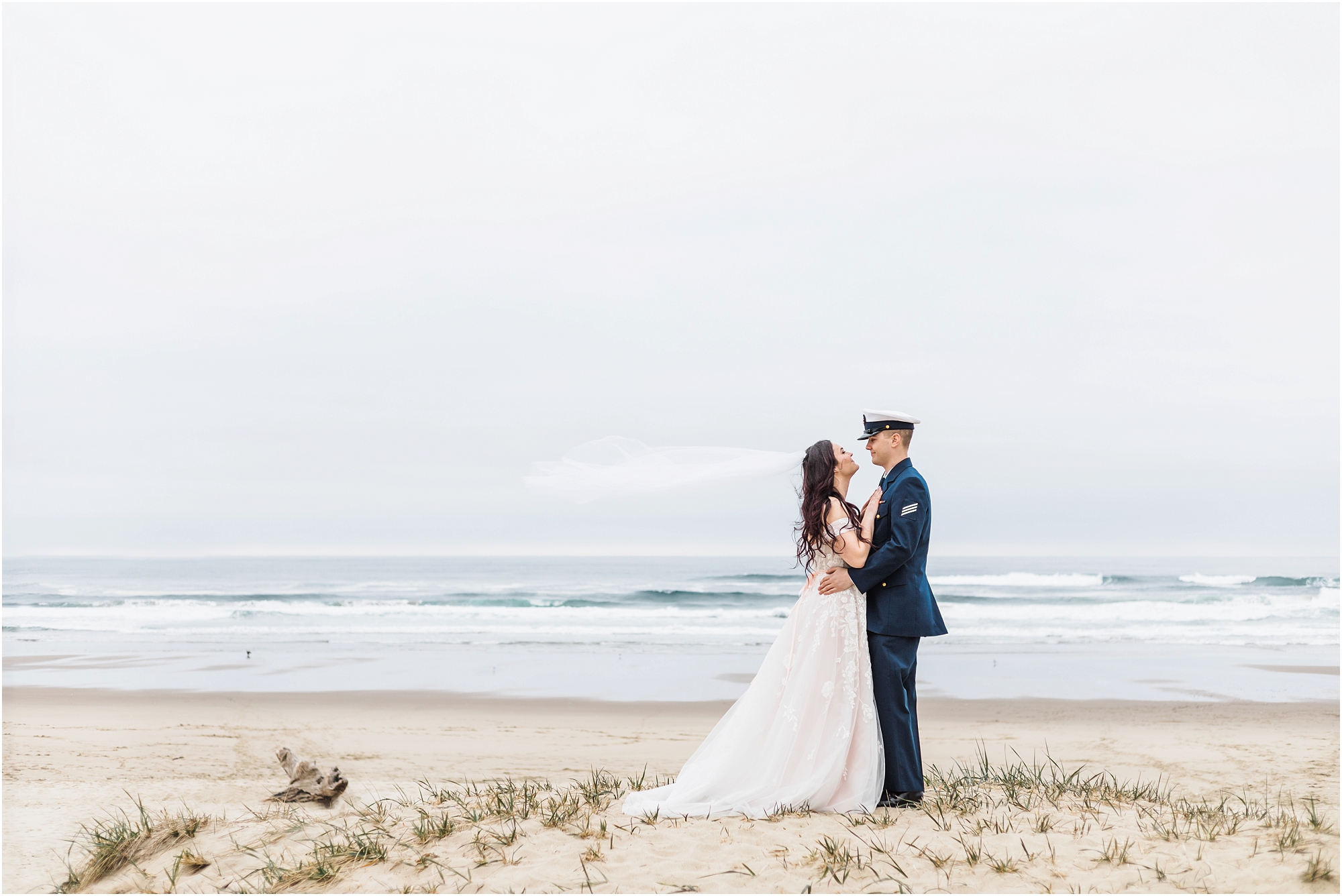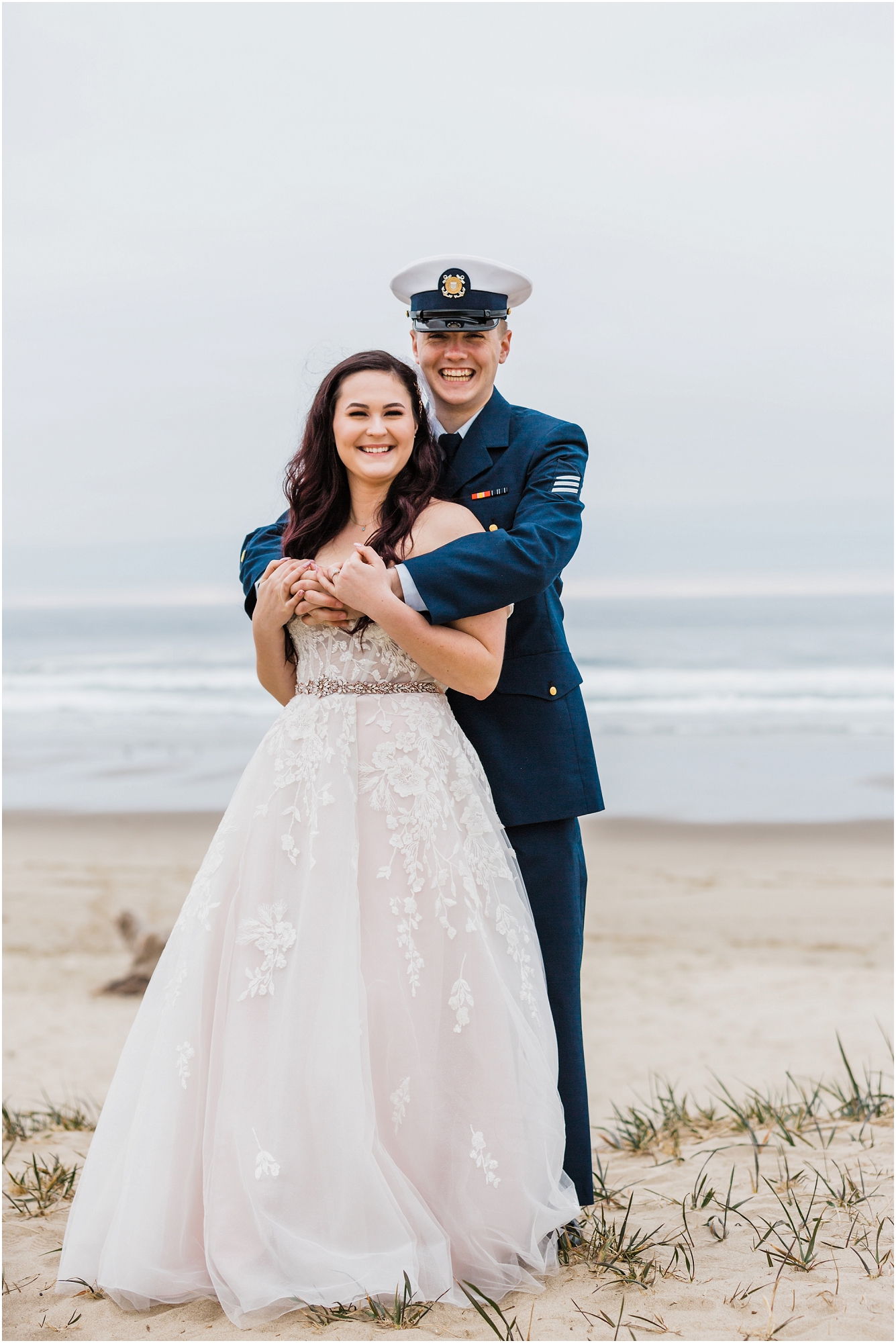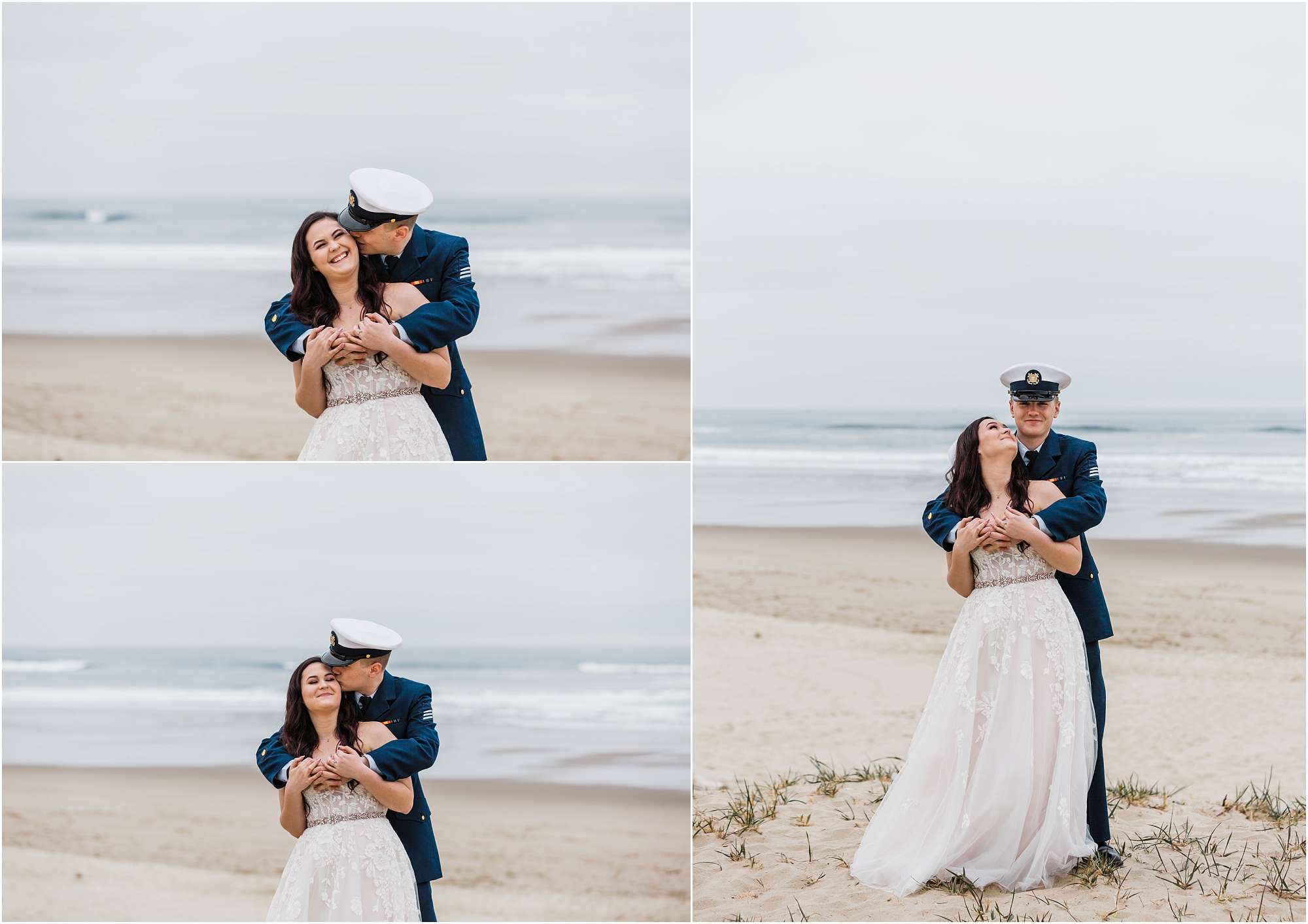 A US Coast Guard Ship served as the ceremony location for this adventurous Oregon Coast elopement!
It was time to head to the US Coast Guard Base and get ready for the ceremony on the deck of the ship out in the ocean! I wasn't sure how I would handle shooting on the boat, as I get seasick, but I wore my trusty Sea-Band motion sick bracelets and I was totally fine. I was so focused on documenting everything, that my brain didn't register the waves. It was pretty choppy out on the ocean too, and the original plan of the open sea had to be abandoned for the safety of the bay.  One of Hunter's fellow coastie's officiated their ceremony, as the other ship mates served as witnesses and made sure we were all safe out on the water. I got to wear a crazy floatation suit, and had the time of my life with this fun crew!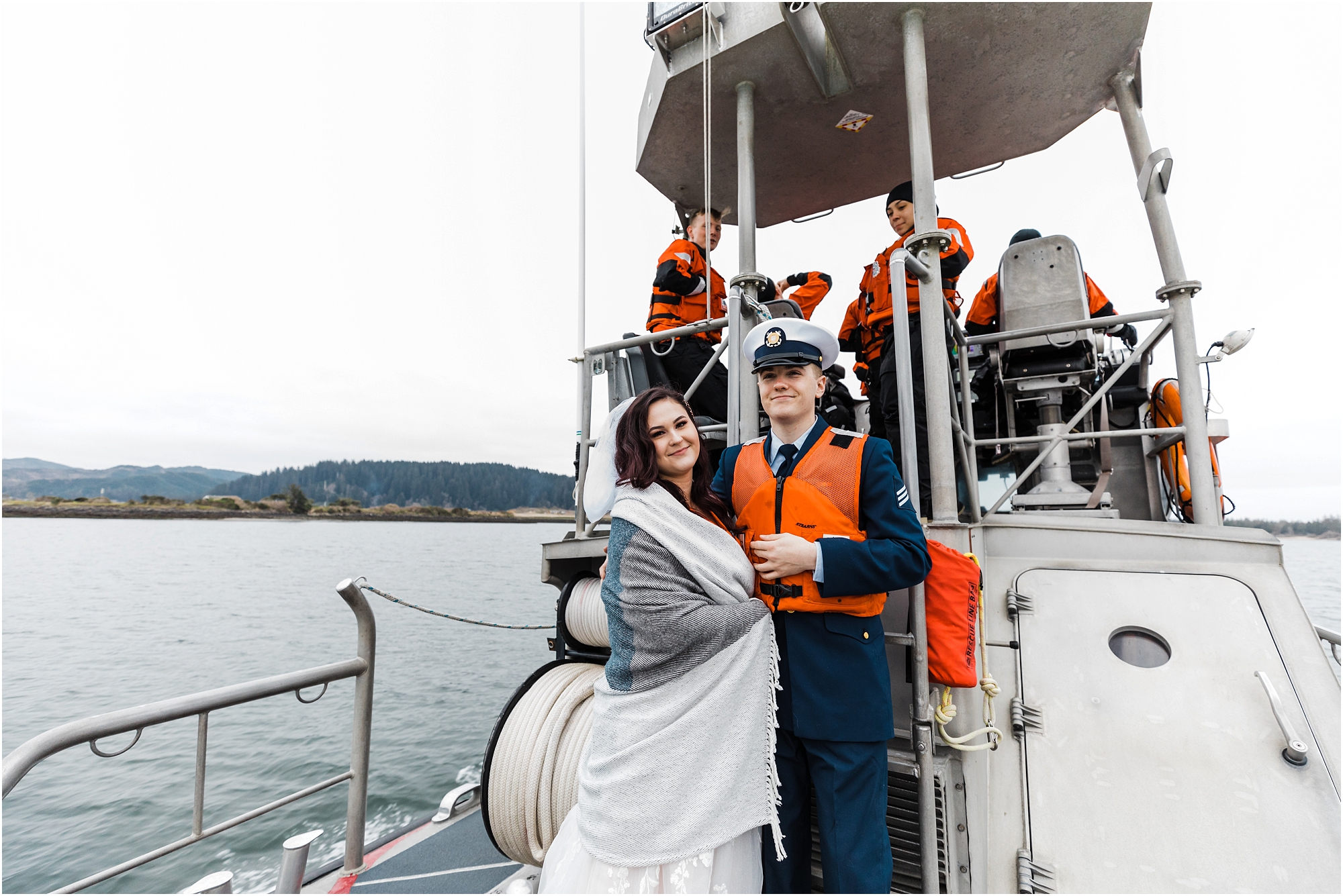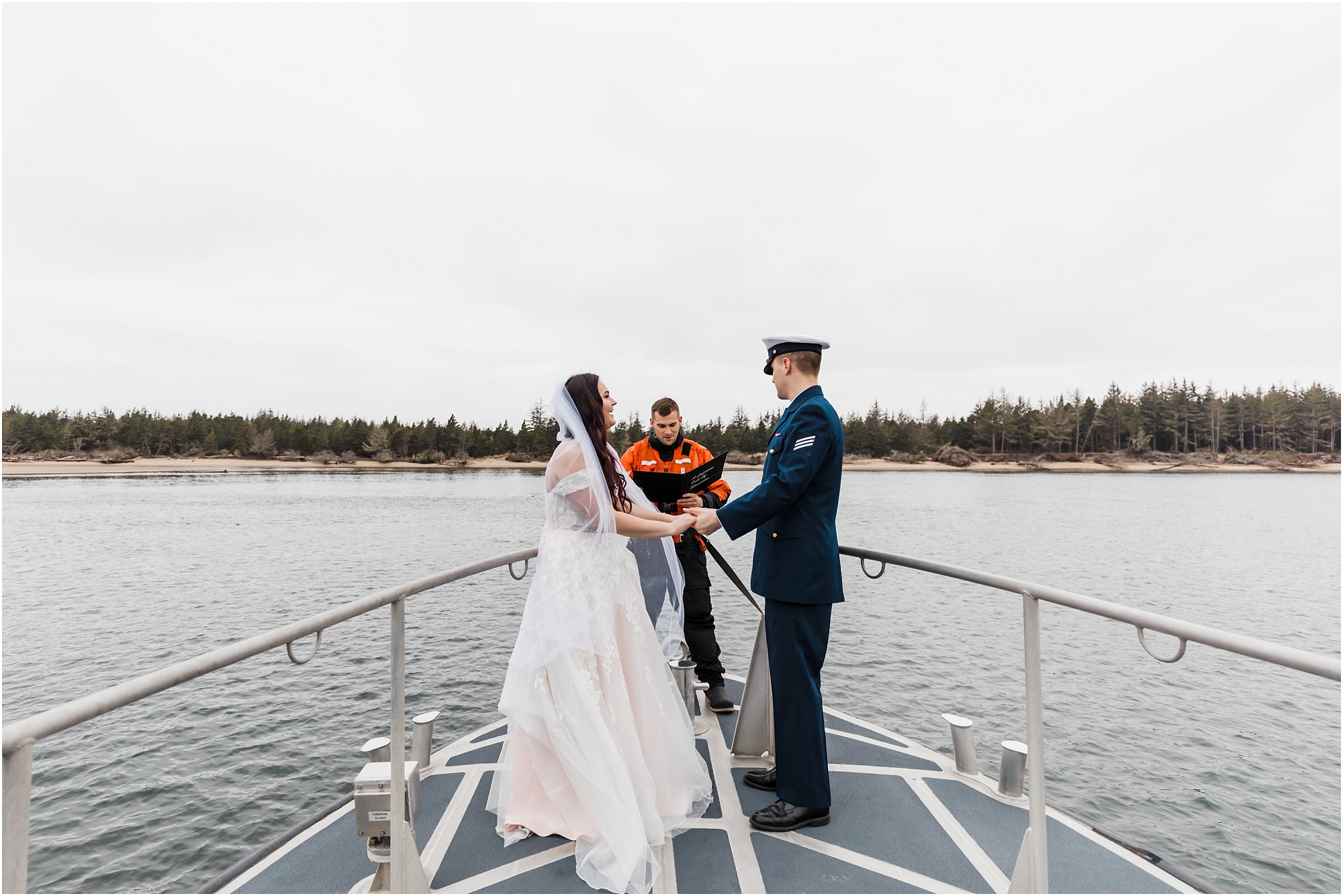 We took some more portraits out on the ocean after the ceremony, and then it was time to portage back into the base. We had a little fun with the crew too! I also had to get a photo with this awesome couple and their truly unique Oregon Coast Guard elopement ceremony, so I handed over my iPhone to the officiant. What an amazing experience!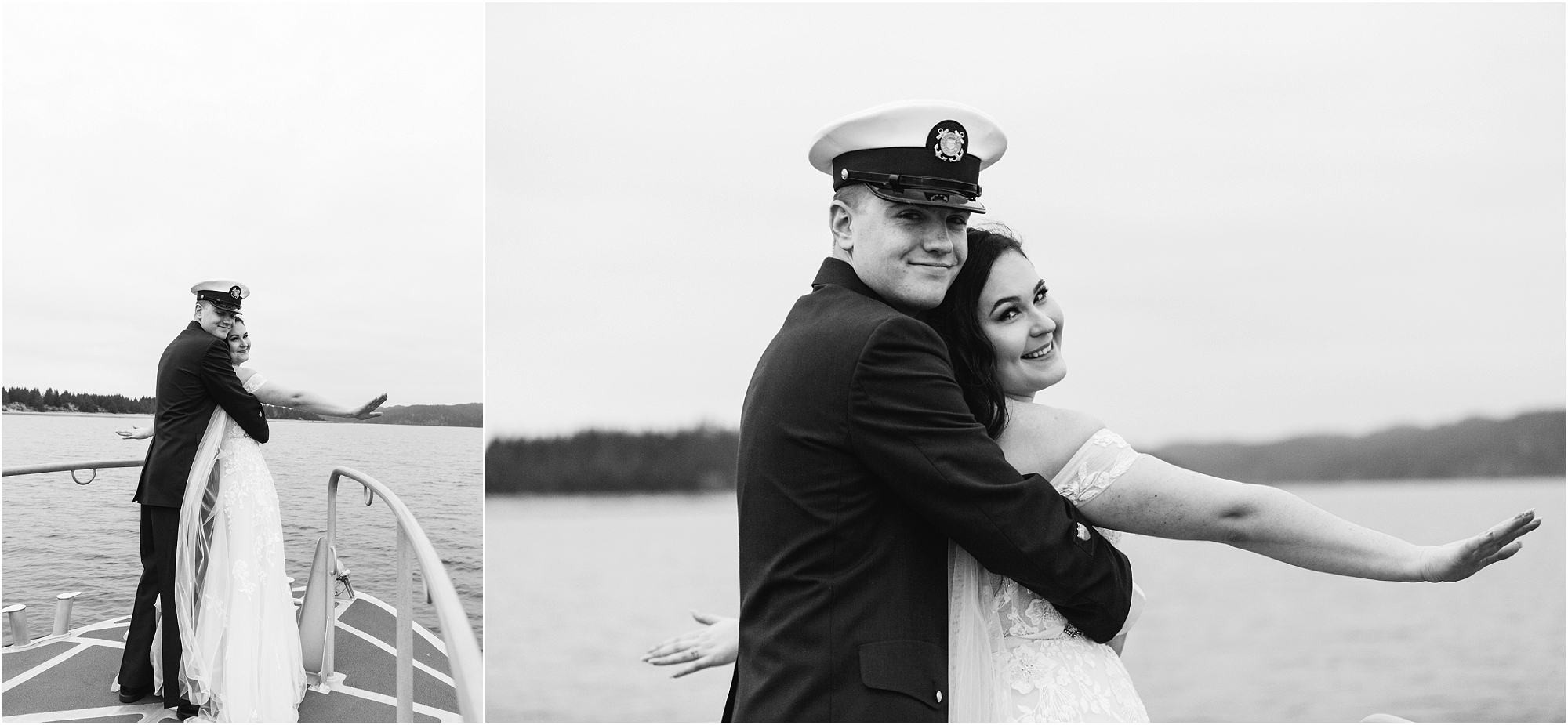 Finally, it was time to head back to the base, to sign the marriage license and say goodnight. We portaged back into the bay during the blue hour. This elopement will always stick in my mind, not only because of the gracious couple and amazing adventure we had out on the ocean, but it was also the last photo session I did for months while the pandemic was blowing up and everything was shut down.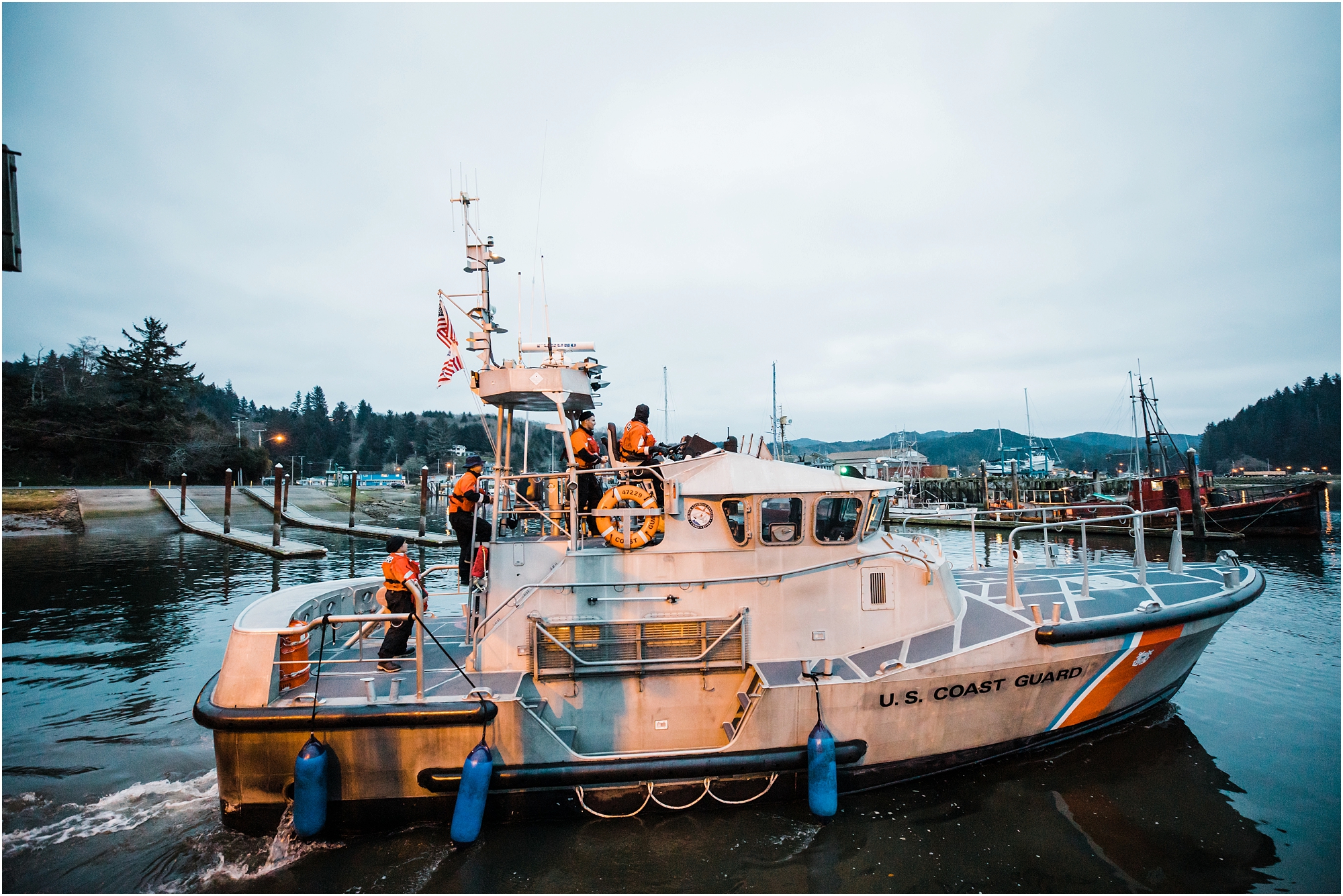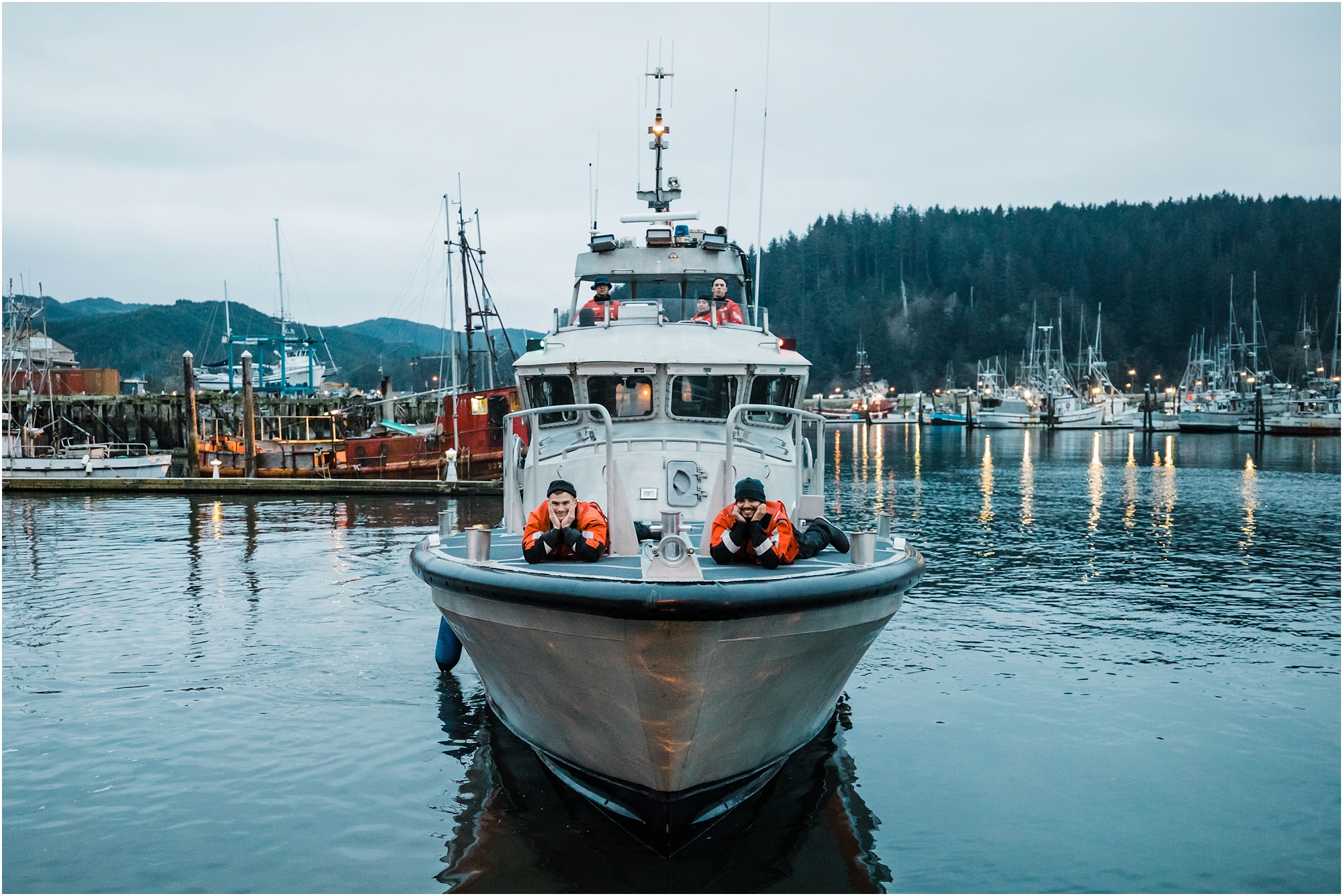 Thank you, Makhala and Hunter for trusting me to document your Oregon Coast Guard Elopement! What an amazing adventure and a truly epic way to start out your marriage.
Vendors-
Makhala's Dress: David's Bridal
Locations: Umpqua River Lighthouse State Park
____
Hey, I'm Erica, an Oregon elopement photographer based in Bend, OR. I would LOVE to help you plan the adventure of your lifetime. 2021 is booking up fast, so contact me today if you want to chat about eloping.