A romantic Central Oregon Coast elopement featuring an earthy color palette.
When it comes to adventure elopements in the PNW, there are so may landscapes to pick from, it can be hard to narrow it down to just one you love. Perhaps that's why I love the Oregon Coast so much. You can get dramatic cliffs, forested mountains, waterfalls, sea stacks, and gorgeous sandy beaches all within a short distance of each other. This romantic Oregon Coast elopement features the best of the coast, with an earthy color palette that compliments the natural environment so well.
Mariah & Hero modeled for the amazing Wild Enchantment workshop on the Oregon Coast, hosted by Jenn Mauer of Wild Coast Photo. Their Oregon Coast elopement day was relaxing, stress free, and absolutely beautiful!
We started out the day at a cabin in the coastal mountains near Lincoln City, where Mariah & Hero cuddled in bed, sipping on Stumptown Coffee out of their mugs made by Hansellman Pottery and eating delicious pastries from Sweetpea Baking Company.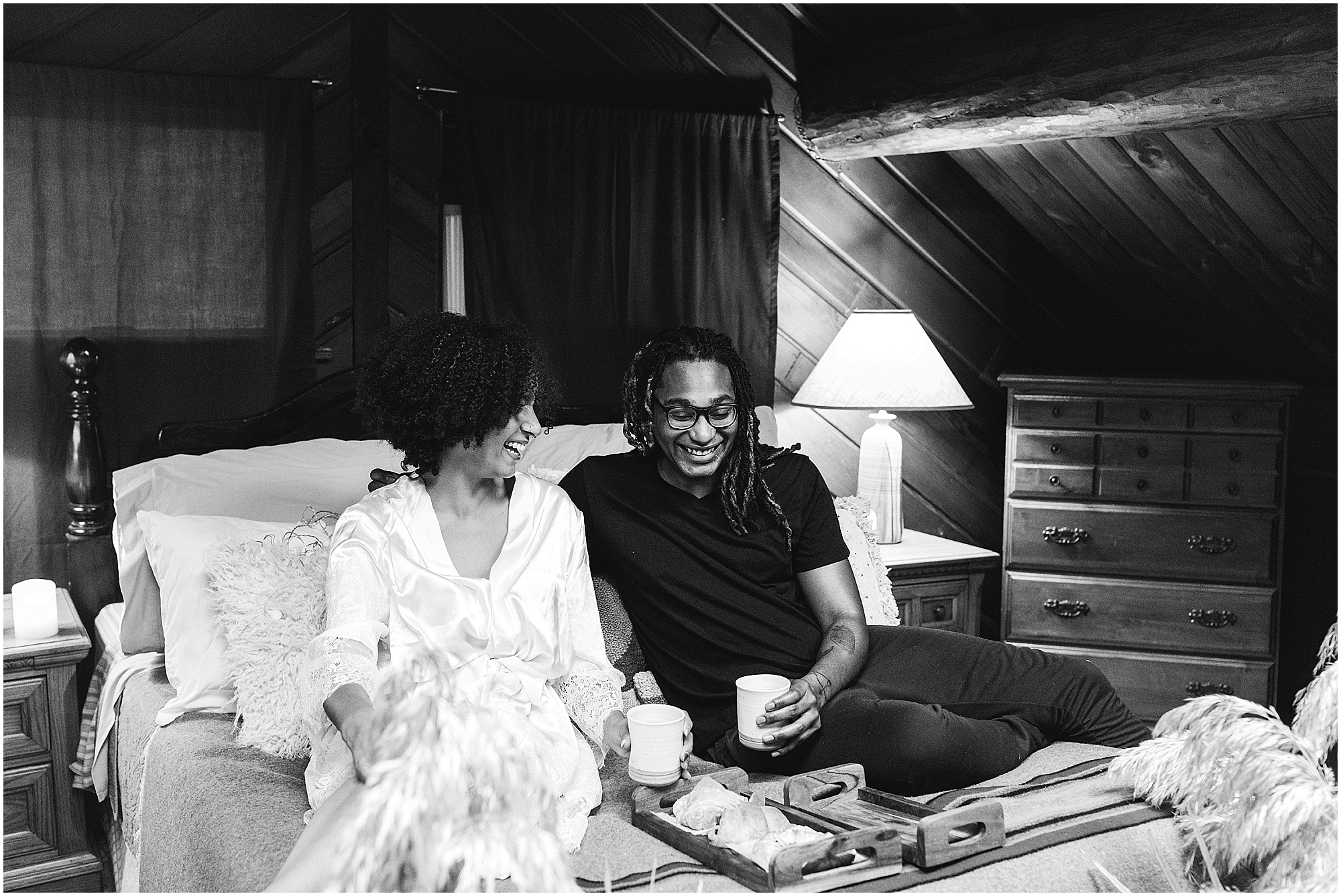 After a casual morning snuggling as the rain was falling, they each got ready in separate rooms of the cabin. Mariah wore a stunning gold sequined skirt and white cropped top with black gladiator sandals, while Hero wore classic black pants and white long sleeve button down top with a black tie. Their flowers were a pale palette of white, cream, pink and green, tying in the beachy vibe for their Oregon Coast elopement.
The Monkey Puzzle Tree was the perfect backdrop for their first look outside their mountain cabin.
Once Mariah & Hero were dressed, we headed outside for their first look under an incredibly unique conifer, called the Monkey Puzzle Tree. The rain stopped just in time! The forest was lush and green. Fog was hanging in the mountains, offering up that moody vibe the Oregon Coastal mountains are known for.
Proposal Rock in Neskowin is the perfect spot for a romantic, beach elopement!
After the first look, Mariah & Hero relaxed for a mid-day break, while Alexis of The Slow Cult set up their romantic ceremony and picnic on the beach. Alexis has a true vision for design, and created an incredible arch using silk ribbon she hand-dyed, along with stunning florals, and a picnic spread to die for! Hiring an expert to help set up the elopement of your dreams is highly recommended, as that's not something you should have to worry about on your wedding day. Mariah & Hero said their vows with the Pacific Ocean in the backdrop. After their ceremony they sat on luxurious cream colored pillows and shared a charcuterie board, cake and champagne. Then as the sun was setting, they walked along the beach with Proposal Rock standing tall for some romantic couple's portraits of their Oregon Coast elopement.
Thanks to the amazing vendor team for an incredible Oregon Coast elopement shoot:
Elopement Workshop: Wild Enchantment
Host: Wild Coast Photo
Floral Installations, Fiber Goods & Design: The Slow Cult
Rentals: Lily & Cane
Paper Goods: Little Canoe
Mugs: Hanselmann Pottery
Pastries: Sweet Pea Baking Company
Coffee: Stumptown Roasters
Blanket: Pendleton Woolen Mills
Photo Decor: Rachel Pohl Art
Jewelry: Mountainside Made & The Juniper Cabin
Mariah's Attire: Mr. Pretty Skirt
Models: Mariah & Bre'oun