Mt Bachelor Ski Resort in Bend, OR is the perfect place for an adventurous couple to elope!
Last March, I photographed Andrea & Greg's Mt Bachelor adventure elopement on the slopes of the ski resort located in the Cascades near Bend, Oregon. The two are avid skiers and wanted to have something special outside of their big wedding plans later that summer that would be more for the two of them and some their closest friends and family. Little did we know it at the time, but COVID-19 would shut down the resort just 15 days later for the rest of the season. It would also completely change their big wedding plans. It was a gorgeous, bluebird day on the mountain and as everyone gathered in the lodge, I took a few detail shots before we headed out to the lifts for the ceremony. Andrea wore the cutest white tutu over her ski pants, and had the perfect white veil to complete her bridal ski gear fashion. She also had the prettiest winter bouquet, made of delicate white flowers, red berries, pine cones and green pine boughs.
On bluebird sunny days, the Summit Lift is spinning for 360° riding opportunities and incredible views.
When I met up with Greg earlier in the week, the plan was to do the wedding ceremony at the top of the Summit Lift, is a little protected spot with a great view. However, when we got up there with the group on the morning of the wedding, the wind was absolutely howling and there was a lot of ice. So, we opted for a a couple of group photos at the top and then we headed down to our plan B ceremony spot.
A view of Broken Top is the perfect place for a wedding ceremony!
The wind was non-existent tucked into the trees with a killer view of Broken Top serving as the backdrop to Andrea and Greg's Mt Bachelor adventure elopement ceremony. Friends and family gathered around them, with another friend serving as their officiant. After they said their vows, champagne was popped, and hugs were shared. We took some group photos and then these two were sent off with me for more photos through a tunnel of snowball tosses and maybe a full on face bomb too!
We headed up Pine Martin lift to take a run down The Grotto.
For the last part of our Mt Bachelor adventure elopement, I rode the Pine Martin lift up with Andrea and Greg. We took a few photos at the top of Red Chair, then headed over to The Grotto run, before descending down along the Red Chair lift line. These two danced their way down the hill in rhythm, as I did my best to follow and keep up with all my gear! Once at the bottom of Red Chair, they brought out their sweet pup for a few photos with him, before I said goodbye.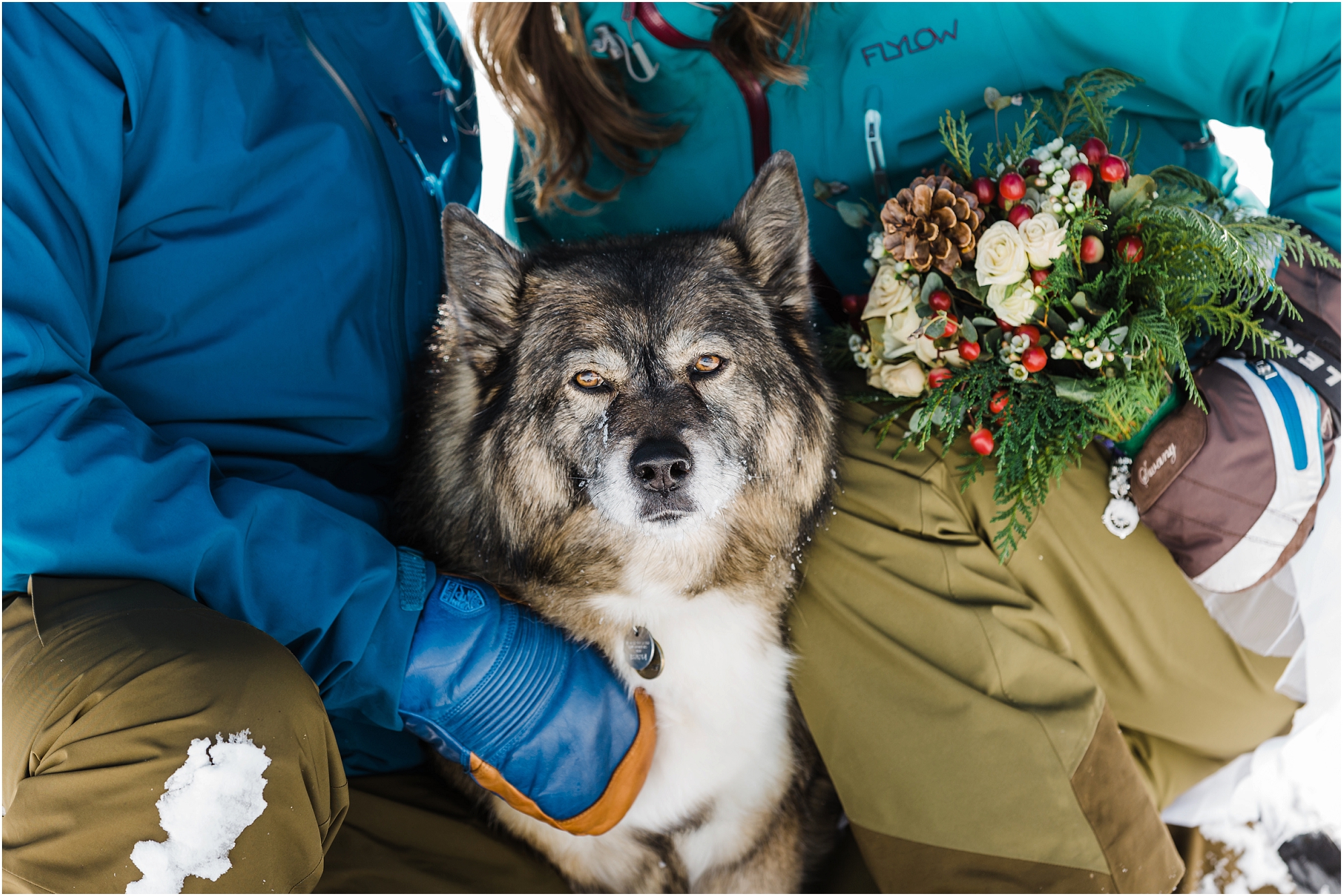 I really had such a fun time photographing Andrea and Greg's Mt Bachelor adventure elopement. I spend several days a week skiing this mountain, so it was a huge honor that I was chosen to photograph their wedding. Congratulations you two and happy 1 year anniversary!
I'm looking forward to my next adventure session on the mountain. If you are thinking about having a winter adventure elopement, I would love to help you plan something that is meaningful for you. Winter is actually one of my favorite seasons and I'm always up for a ski trip with my camera in tow! Contact me today and let's talk!
_____
Hey, I'm Erica, an adventurous elopement and intimate wedding photographer based in Bend, Oregon. I hope to hear from you!