A Hollinshead Barn Fall Wedding in the heart of Bend, Oregon.
I don't think the day could have been better for Kasey & Louie's Hollinshead Barn Fall Wedding! The sun was shining, the skies were a crisp blue, and the fall color was glorious. Kasey & Louie are the sweetest couple. I really have enjoyed getting to know them, first over beers at our initial consultation, as well as during their Cascade Mountain engagement session earlier in the summer.
On the morning of the wedding, I met Kasey at the vacation rental home she and her girls were getting ready in, while Gwen met Louie and the guys at the couple's home. After some candids of the girls getting ready, I drove to the venue where Kasey's dress and other details were waiting for me to photograph. Kasey is one of the most organized brides I have worked with, and she made it so easy for me to get all those photos efficiently.
Hollinshead Barn is a rustic wedding venue and the fall color is some of the best in Bend!
It was time for Kasey to get dressed and ready for portraits!
Kasey and Louie chose not to do a first look, so we had to make sure to get all the formal portraits with the bridemaids before Louie and the guys arrived. The upstairs of Hollinshead Barn is a great place for the girls to finish getting ready and make sure they stay hidden away, if need be.
The grounds surrounding the park also feature another more rustic barn, which is a perfect place for formal photos!
It was time for Kasey and the girls to head upstairs again, relax and let the guys have their time in front of the camera.
The outdoor ceremony location on the lawn is the perfect place for a Hollinshead Barn fall wedding! 
Pumpkins lined the aisle, and a gorgeous wooden arch, made by Kasey's family, and decorated with sunflowers and fall color, was set in place. The couple's dear friend officiated, and a beautiful, heartfelt ceremony took place. Louie looked on as his gorgeous bride made her way down the aisle in her father's arm.
After the wedding ceremony, the happy couple spent some time chatting with their guests with a quick receiving line.  Then it was time to sign their marriage license and get ready for the formal photos, while their guests enjoyed the cocktail hour.
Formal portraits at a Hollinshead Barn Fall wedding
The rustic wooden barn is a photographer's favorite feature at Hollinshead, and it's easy to see why. The light is usually beautiful, it's a short walk from the main venue, and it's a simple background for the formal portraits.
After the family formal portraits, it was time for the entire wedding party to pose. Hollinshead Park is such a pretty spot, especially in the fall with the color. The rustic barn is a favorite spot of mine, but I also love wandering around to the more natural areas that are part of the desert landscape here in Central Oregon.
Now that all the family and wedding party portraits were done, it was time to take Kasey & Louie for their romantics. This is one of my favorite parts of the wedding day!
The reception space at Hollinshead Barn was decorated by the bridesmaids in the perfect fall palette.
A Hollinshead Barn fall wedding is decorated with red paper doilies and a thank you note from the couple at each place setting. Beautiful flowers in mason jars and beer bottles painted navy blue sat on wood tree slices as table centerpieces. And, the couple has the cutest mason jar goblets, wrapped in burlap. 
The happy newlyweds make their grand entrance in the reception at Hollinshead Barn, as guests cheer them on! A buffet dinner catered by Longboard Louie's is served, because duh, it's named after Louie (just kidding, I made that part up). Heartfelt toasts were given by family, friends and a thank you by the couple. Then it was time for Kasey & Louie to cut their cake and play the shoe game. 
The hardwood interior and huge vaulted ceiling of Hollinshead Barn is such a gorgeous wedding reception location in Bend, Oregon. 
Finally, it was time to head upstairs for the first dance as husband and wife. The father-daughter and mother-son dance followed. Then the dance party began!  
The night was coming to a close, and it was time to send Kasey & Louie off with a glow stick exit.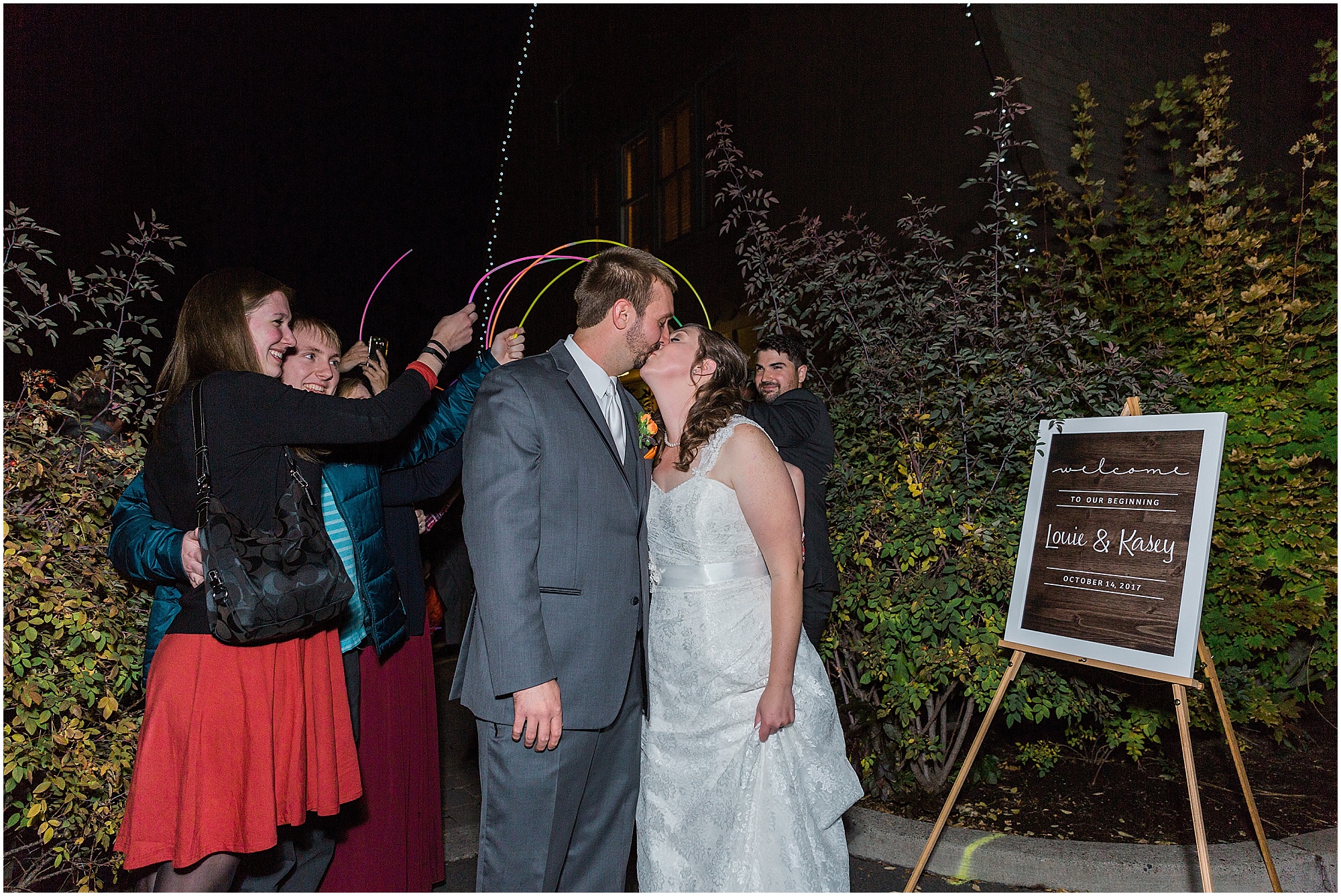 Kasey & Louie's Hollinshead Barn fall wedding was absolutely gorgeous. The DIY elements were so well done, with so much thought and care given to create the perfect rustic fall vibe. Their wedding day was super chill, just like these two! The craft beer was flowing, friends and family were having a blast, and I'm pretty sure everyone would agree that the day was absolutely perfect.
These amazing vendors all had a part in making the day great:
Venue: Hollinshead Barn
Hair & Makeup: Jen at V Studio Eugene
Dress: David's Bridal
Bridesmaid Dresses: Bill Levkoff
Suits: Vera Wang, Men's Warehouse
Shoes: Franco Sarto
Rings: Fred Meyers Jewelers 
Flowers: Cascade Garden Florist 
DJ: Bend Event Sound
Catering: Longboard Louie's
Cake: Market of Choice
Second Photographer: Gwen Shoemaker
__________
Hey, I'm Erica, a wedding & elopement photographer based in beautiful Bend, Oregon. I love working with laid back, free-spirited, and natural couples. If you are getting married and on the search for a photographer, send me an email and let's connect! I still have a few dates open in 2019 and I'm currently booking 2020 weddings. I would love to grab an IPA or latte and meet you.